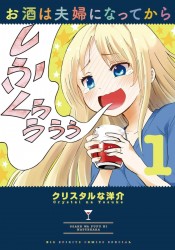 Alcohol is for Married Couples
Author: KURISUTARUNA Yousuke
Artist: KURISUTARUNA Yousuke
Synopsis: From ANN: The "slightly sweet tipsy couple comedy" manga centers on the 28-year-old senior public relations company staff member Chisato Mizusawa. The story follows Chisato's daily life as she enjoys her husband Sora's cocktails. Chisato has secrets that only her husband knows.