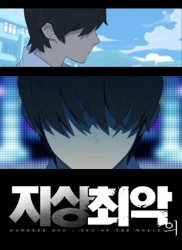 Nowhere Boy
Author: JUNG Pil-won
Artist: JUNG Pil-won
Synopsis: "Welcome to Survival, 'I Am Unhappy,' the exciting game show to find the world's unhappiest person! The grand prize... is a wish granted by God!" When the victor of the game show wishes for the end of the world, God accepts this wish with a set condition: the world's end would proceed over the course of 100 days, and during that time, he is allowed to 'change his mind' only once. Oh Duk Hee, a quirky comic artist who specializes in unhappiness, is chosen by God to make the unhappiest person on Earth happy again. With the pressure of mankind's destruction riding on her shoulders, will she be able to change his mind before it's too late? The competition to choose the world's unhappiest human?! The hybrid school fantasy action story by Jung Pil Won!