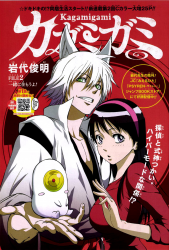 Shikigami - Twilight Days
Author: IWASHIRO Toshiaki
Artist: IWASHIRO Toshiaki
Synopsis: A serial killer is on the loose, and the authorities are stumped! But little do they know that this unusual case requires unusual sleuthing methods. That's where Mako Miyoshi, home detective extraordinaire, and Kyosuke Kagami, a shikigami user, come into place. Together, they'll investigate the supernatural crimes, but have they started something that might be too much for them to handle?